Hi everyone! Bex here. One of the items from this year's reading challenge is to read a wordless picture book. Wordless picture books are cool because they tell a complete story but it's up to the reader to fill in the details. From a literacy education perspective, they're a great way to help kids develop narrative skills (because they have to tell the story). Fun fact: They're still a great narrative experience for adults, and a great chance to appreciate nontraditional forms of storytelling! Plus, they help expand your understanding of children's picture books in general. Illustrations are absolutely essential to picture books, but we're so used to reading words we often forget to pay attention to them. Wordless books take away that crutch: We HAVE to focus on the illustrations, and we start to notice the techniques that help convey movement, tone, emotion, and so on. But it can be hard for those of us who don't regularly read picture books to know what's out there, so I'm going to highlight a few that I've come across and think you might like too. Hopefully this will be some good inspiration for your reading challenge!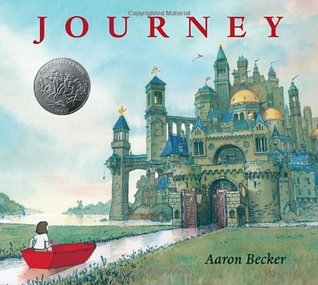 First I want to talk about Aaron Becker. He's illustrated several wordless picture books – shown here is Journey, which was nominated for a Caldecott Medal in 2014, but he's illustrated several. (I read Journey in grad school and it's what sparked my love of wordless books.) This one depicts a girl who draws a magic door on her bedroom wall and discovers a fantastic world beyond it. It's followed up by Quest and Return. Becker also illustrated A Stone for Sascha. Another Caldecott-nominated illustrator to look for is Barbara Lehman, whose titles include The Red Book, Museum Trip, Rainstorm, and The Secret Box. Hers are especially cool because she uses the images to evoke specific words sometimes – The Red Book, for instance, doesn't actually have the title on it, but you know when you see it that it's the Red Book (and it is also about a red book.)
Keep an eye out, too, for David Wiesner. He's written plenty of books that do have words (among them a surrealist version of the three little pigs, to give you an idea of his style), but his wordless picture books are my favorites. Flotsam, shown here, has probably my favorite cover (hence using the picture), but Free Fall may be my favorite story. His books tend toward the surreal and science-fiction-y, which is really fascinating to explore without any words. Also look for Tuesday, Sector 7, and Mr. Wuffles.
Other authors to look out for who have multiple wordless books to their name: Lizi Boyd, whose books Flashlight and Inside Outside make really great use of light and space in their illustrations; Bill Thomson, whose books (including Chalk, Fossil, and The Typewriter, among others) rely on very realistic art and often include dinosaurs; and Jeannie Baker, whose work is notable for its collage-style art rather than simple illustration (look for Home and Mirror).
Of course, most authors don't focus so intently on wordless books – it's just that some of their work is wordless. A recent favorite of mine is Flora and the Penguin by Molly Idle (pictured on the left), which is especially cool to me because it also incorporates lift-the-flap elements to bring movement into the story, plus it's just really cute. Other one-off books I've really enjoyed are Rain by Peter Spier, who has an excellent eye for detail; Wave by Suzy Lee, whose illustrations are mostly black-and-white but uses touches of blue to help push the story along; and A Ball for Daisy by Chris Raschka, which is a really adorable book with cartoonish illustrations about a dog and her favorite toy.
One more thing I want to talk about: MOSTLY wordless books. I still count this in the broader category of "wordless picture books," even though they do still have some text in them. The one pictured here, Wolf in the Snow by Matthew Cordell, and another storytime favorite of mine, Red Sled by Lita Judge, both use no narrative text but do use words layered on the illustrations to convey the sound effects that might be associated with the story. So for example, Red Sled has "scrinch scrunch scrinch scrunch" drawn along the animals' footprints to give the sound of them walking, but I still count it because it doesn't use words to tell the story: the reader is still doing that on their own.
Finally, I want to highlight my pick for this challenge! I'll be reading Moletown by Torben Kuhlmann. I've encountered his picture books before, because he does picture books that are divided into chapters (and actually was an honor book for literature translated into English this year – Kuhlmann is German), and his illustrations are super detailed. So when I found out he had a wordless picture book that I hadn't previously known about, I decided that would be my pick!
What wordless book are you reading for the challenge? Is it one of these, or something else? Let us know in the #reading_challenge channel in Bibliotaria, or in #literature!